At this time of year cars can quickly become dirty, whether it's muddy puddles or water marks from rain, the wet and cold weather is bad news for vehicles. A regular clean is essential to keep a vehicle looking its best.
A pressure washer can blast away the dirt with far less effort than a hand wash and uses less water than washing with a hose too. Here are few handy tips from Draper Tools on getting best results with your pressure washer:
Keeping the pressure washer's nozzle a safe distance from the vehicle, rinse with water only first to get rid of dust, dirt and surface grime. When doing this, make sure you don't use too strong a spray setting, or point the nozzle directly at any engine components.
Choose a pressure washer with the facility to spray on detergent, such as the Draper Tools 1700w 230V Pressure Washer with Total Stop Feature. This allows you to easily coat the vehicle, letting the shampoo get to work breaking down any caked-on dirt. Just don't leave the shampoo on too long or it'll leave marks that will need cleaning off when the vehicle dries.
Use the pressure washer's brush attachment to help make quick work of cleaning off any stubborn dirt. Aim to work in small sections to ensure you get a really thorough clean.
Don't forget about carefully cleaning the wheels too as these can easily accumulate a lot of dirt. Be careful you don't aim the nozzle directly at the tyres though.
Every once in a while, it's a good idea to clean the underside of a car too, especially if it's been off road or exposed to grit and salt. A pressure washer with a lance will help make this car once it has fully cooled down though.
Hold the washer at an angle when rinsing the vehicle, again remembering to keep a safe distance away.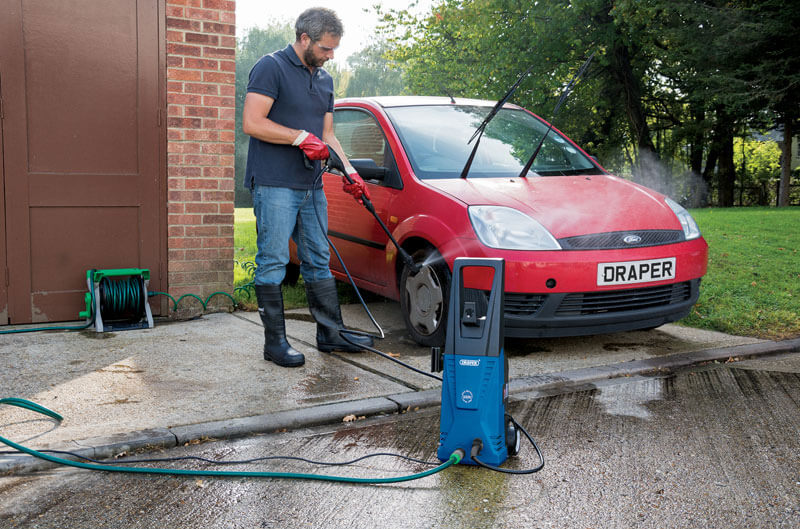 Try putting some of these tips into action with the Draper Tools 1700w 230V Pressure Washer with Total Stop Feature . It's compact, efficient and the Total Stop Valve automatically activates and deactivates the high pressure cleaner every time the trigger is operated. This increases the life of the motor and reduces electricity consumption too. It comes supplied and fitted with 5M of high-pressure hose, gun, lance, adjustable jet nozzle, fixed brush, angle nozzle and detergent bottle.