Automotosaurus is back with the rest of the GoGoDiscover dinos and friends!


Doing the city trail?
Don't forget to unlock Automotosaurus on the GoGoDiscover app to receive a reward offer of 10% Off Kids Bikes & Scooters in store!
T&Cs apply, see below for details.
---
Number 31 on the City Trail, at the top of Norwich Market in front of City Hall on St Peters Street, Automotosaurus is easy to find and unlock!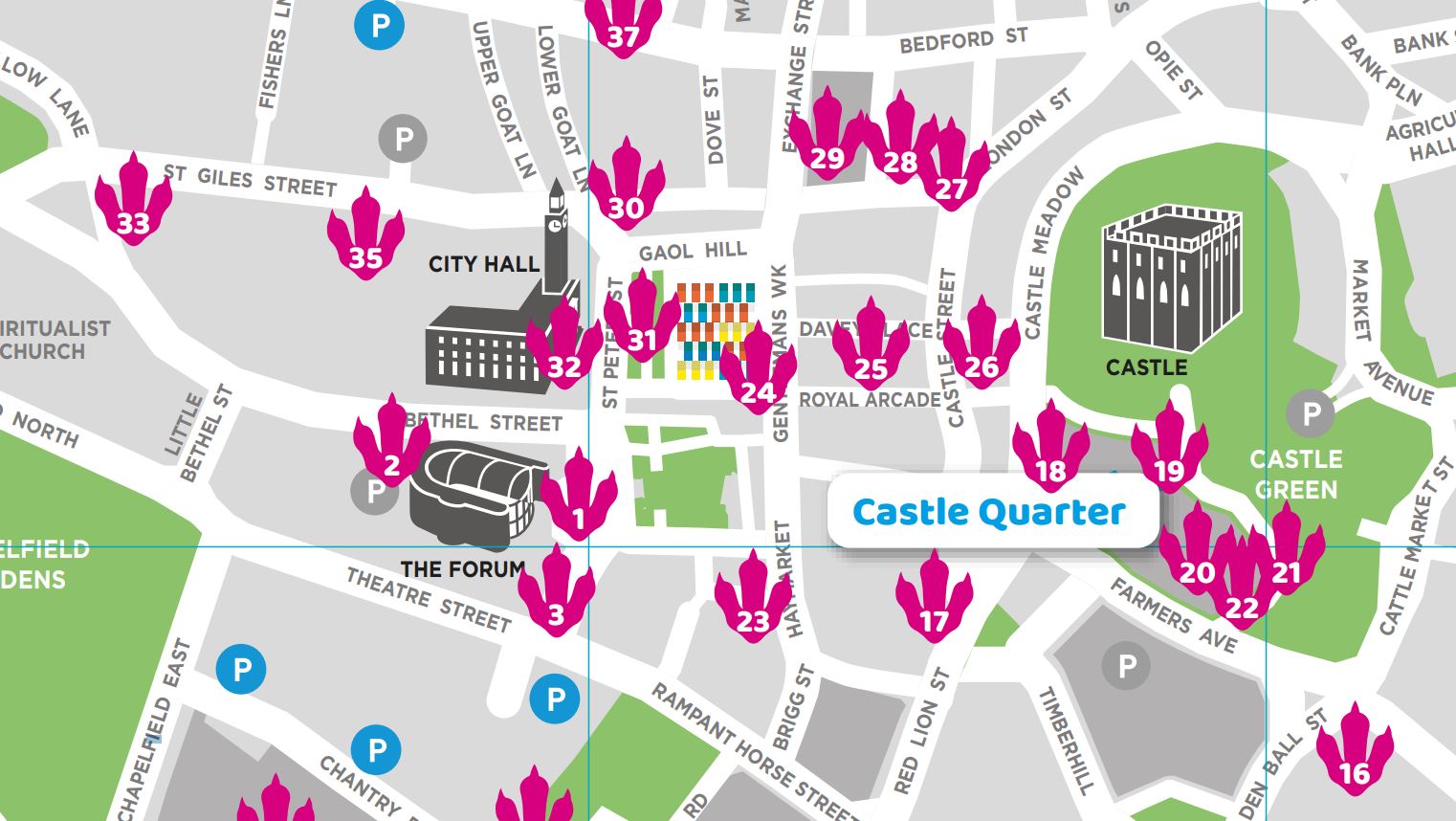 GoGo on a Jurassic jaunt to discover Break's T.rexcellent new charity sculpture trail in partnership with Wild in Art.
Follow our T.rex Automotosaurus on Twitter and Instagram for all the updates

Automotosaurus with artist Jo Botterill
---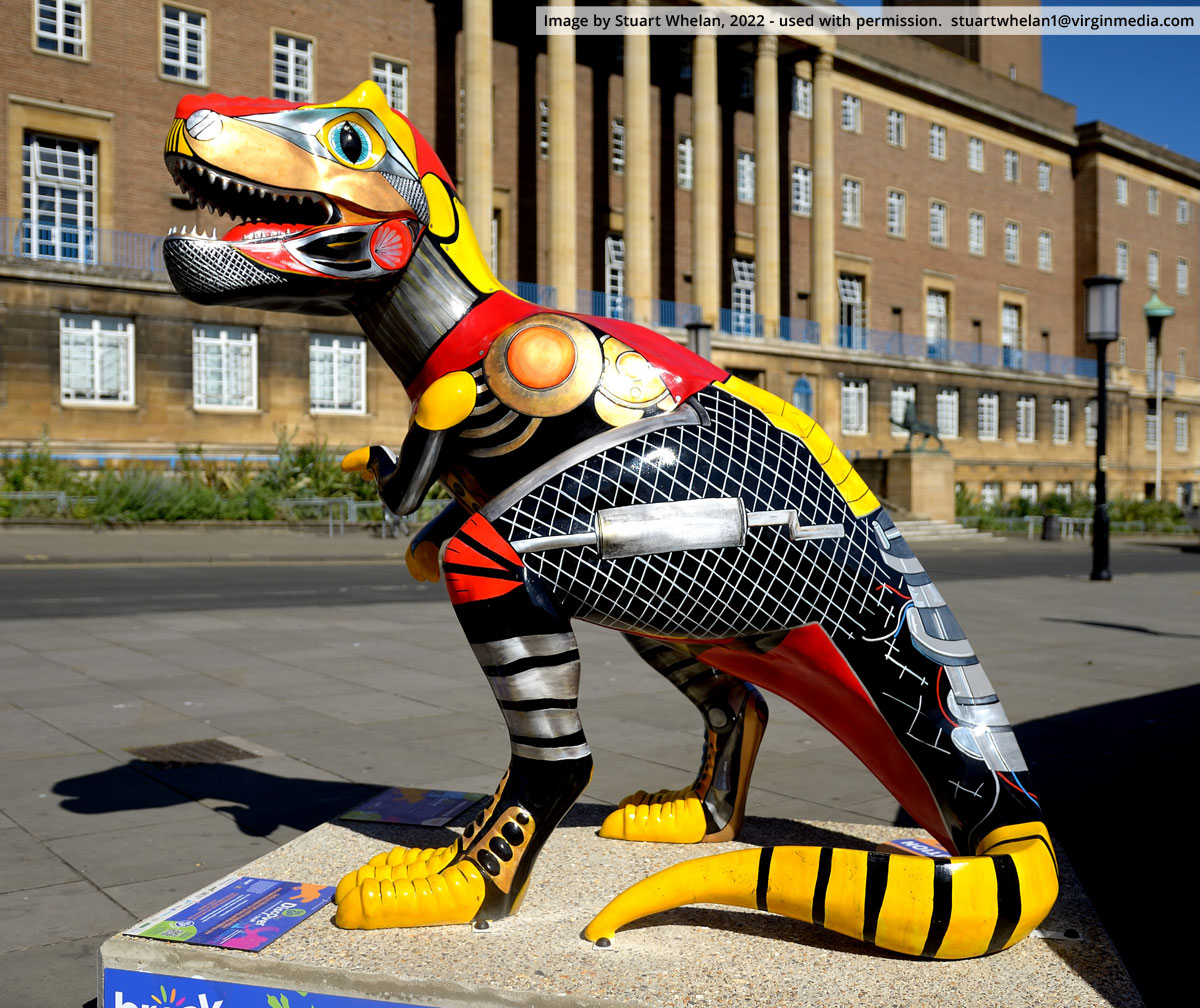 Automotosaurus on St Peters Street, Norwich. (Download full size image – 4.15MB ZIP)
Our grateful thanks to Stuart Whelan for creating the image above and allowing us to use it on our blog.
---
Back in 2018 we sponsored a GoGoHare in the Norwich City trail, and in 2021/2022 we are sponsoring a spectacular T.rex sculpture along with our sister company, Fast-Fit!
Automotosaurus and friends are returning in summer 2022 as part of a larger county-wide trail across Norfolk, from Monday 27th June until Saturday 10th September 2022.
After the success and popularity of our GoGo Hare 'Break Harepower' in 2018, once again our rex will be brought to life by talented artist Joanne Botterill. At 1.8m tall, the sculptures make a fantastic canvas and will be an eyecatching presence across Norwich!

If previous trails are anything to go by, GoGoDiscover in 2022 is bound to be a huge success, raising thousands of pounds for Break via sponsorships, merchandise and the auction of the T-Rex sculptures themselves.
Proceeds raised will support Break's vital work supporting young people and families across East Anglia.
Charlie Langhorne, Wild in Art managing director, said:
"I think they will be tremendously well-received - children young and old do love dinosaurs so hopefully it will be a really exciting trail."
About Break and the GoGo sculpture trails
Break is an innovative charity that provides hope and support for vulnerable children and young people. Based in East Anglia, they offer a 'whole childhood' service that represents exceptional commitment to the young people they work with and investment in their futures.
Their vision is to be the leading children's care charity in East Anglia striving for the best outcomes for young people on the edge of care, in care and moving on from care.
They do this by offering a pathway of connected specialist support services to ensure young people have the care they need, when and where they need it, for as long as they need it.
Find out more: www.break-charity.org

"A child cannot choose the family, surroundings or situation they are born into. Here at Break we believe that whatever a child's start in life, with the right support there's no limit to what they can achieve. Where this support is missing, we're there. We help children and young people find the courage, strength and hope they need to live happy and successful lives."
---
Automotosaurus Wordsearch Solution | Automotosaurus What Comes Next? Solution
---
GoGoDiscover App Reward Terms & Conditions
10% Off Children's Bikes & Scooters ('The Promotion') App Reward offer starts Monday 27th June 2022 and ends 30th September 2022.
The Promotion is only valid at selected Norwich branches of Wilco Motor Spares ('The Promoter'); Aylsham Road, Salhouse Road and Dereham Road, and is not available online at wilcodirect.co.uk
To receive the discount, show the Automotosaurus Unlocked Rewards Page on the GoGoDiscover app in store to a staff member.
No cash alternative is offered. Stocked children's bikes and scooters only.
App reward discount can only be used once per customer.
The Promoter reserves the right to amend or end this offer at any time.