If the prospect of the winter nights drawing in is getting you down, don't despair. This winter, make the dark commute a little brighter – and safer ­­– with Ring Automotive's incredible Xenon130 headlight bulbs.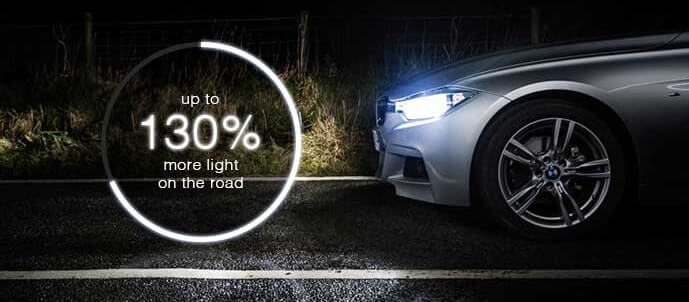 Ring's Xenon 130 headlight bulbs flood the road with a massive 130% more light than a standard bulb, meaning the longer, darker nights won't leave you struggling to read road signs and spot hidden hazards. They are brighter, whiter and a simple, legal replacement for your normal bulbs.
Offer available while stocks last. Visit your local branch of Wilco Motor Spares to buy in store - we can fit these for a small fee while you wait.
Features
+130% more light on the road
60m longer beam pattern than standard halogens
3700K colour temperature for white light
Whiter light gives better reflections from signs and road markings
E approved and road legal
Award Winner: Auto Express Commended 2017
Thanks to their advanced filament technology and their use of 100% xenon gas, Xenon 130 bulbs emit light that is similar in quality to daylight and can illuminate the road in front of you by an extra 60 metres compared to conventional bulbs.
In road safety terms, where reaction time and hazard awareness is everything, think what a difference that extra 60 metres of visibility could make…
Changing to Xenon 130s, carrying out some simple vehicle checks and practicing good driving habits could really help keep you stay safe on the roads at night and make the shortening daylight hours less daunting.
Not sure which you need?
Contact us and we will help, or ask at your local branch of Wilco Motor Spares.
Fitted while you wait
Our expert staff can fit your car with new bulbs while you wait.
(Small fitting charge applies)
---
Tips for driving in the dark
A higher proportion of fatal road accidents occur between 6pm and 6am and driving in these hours brings about a new set of challenges for motorists. Here are our tips for driving safely at night.
Check your lights regularly
Clean covers with damp non-abrasive cloth if dirty.
Keep your windscreen, mirrors and windows clean
Using newspaper to wipe glass surfaces can remove smears and marks that impair visibility at night. Also make sure you are familiar with your car's aircon/heater controls to keep your windows from misting up in the cold winter temperatures. An in-car dehumidifier can also help avoid misty windows.
Have your eyes tested regularly
Always remember your glasses if you need them.
Keep cabin lights in the car very low
(or off completely) and keep gadgets like satnavs set to a dark screen mode so your forward vision is not affected.
Stay sober, alert and refreshed
Remain aware of unexpected hazards such as badly-lit cyclists, pedestrians, drunk drivers & wild animals. If you feel sleepy, take a break and grab a caffeinated drink and some fresh air to perk you up.
If you are dazzled by the lights of an oncoming car, don't panic
Look to the road markings for guidance if possible. Likewise, avoid dazzling oncoming motorists with your full beams. Study the road ahead of you for signs of approaching cars and dip your headlights accordingly.
First posted 16.10.17, updated 25.10.18.