Colder weather often spells trouble for car batteries, but what if you could jump start yourself out of a sticky situation?
Icy winter days can take their toll on car batteries, which means you may find yourself stranded on a snowy road.
However, if you have your own personal jump starter you could avoid a chilly wait in a broken-down car. Modern-day power packs come in different shapes and sizes to suit all sorts of cars, and they aren't always heavy and bulky pieces of equipment.
Take a look at Maypole's latest additions to their range of battery chargers. They are easy to use and give affordable peace of mind.
Battery blues
During the winter months, breakdown services rescue millions of motorists who break down. One of the main causes for call-outs are failed batteries, which becomes more vulnerable to faults as the temperature drops.
Motorists should prepare for potential breakdowns. Having a jump starter primed and ready to go means that you can kick-start your car if the battery fails.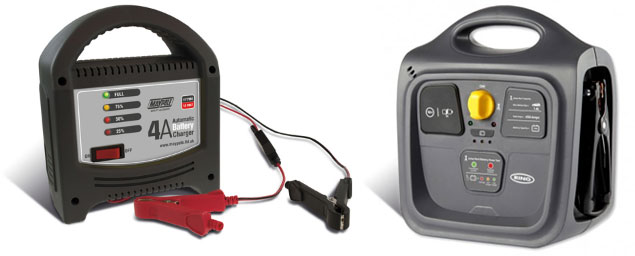 More on Maypole Chargers
In comparison to some other chargers on the market, build quality is second-to-none. The ABS casing grants enhanced protection and all have fully insulated crocodile clips. They are safe to use; meeting European Electrical Safety Standards and featuring overcharge, short and reverse polarity protection technology, preventing damage to your vehicle's battery.
There are two main types of vehicle battery; traditional lead-acid, and the modern AGM/EFB type used in vehicles with start/stop technology. Maypole's Battery Chargers are lead-acid and AGM compatible.
Get ready for the cold
Prevention is always better than a cure, so although having a jump starter in your toolkit means that you may be able to revive a flat battery, giving your car a quick check-up before heading out is always a good idea. Check the oil, screenwash, coolant and your tyres to ensure that your odds of breaking down are as small as possible.
View our full range of Maypole battery chargers
If you find your battery goes flat for no discernible reason, you're struggling to determine which charger will be required, or just don't want to touch your battery, Fast-Fit will check yours for you completely free of charge and with no obligation to buy a replacement.