There are a lot to choose from out there but don't fear, we've done the hard work for you!
What's the one thing most overlooked by motorists yet proves to be a fundemental factor when it comes to keeping you on the road?
Tyres.
No matter insignificant some may think they are the truth is they are the single item that is between you and the tarmac below.
Tyres have to be at the correct pressure to function properly and work efficiently but it doesn't have to be something you do once in a blue moon.
The easy and cost-effective way to keep your tyres performing at their best is with a 12v portable air compressor or tyre inflator as you may sometimes hear them referred to as. Having your own compressor in the car is not only cheaper in the long run than relying on the supermarket or petrol station's machine but it also makes it so easy to keep on top of your pressures.
So, you may be asking which is the best portable air compressor to buy in 2017? - We tested a wide range and have come up with a winner!
Introducing the RAC600 12v Auto Digital Air Compressor by RING Automotive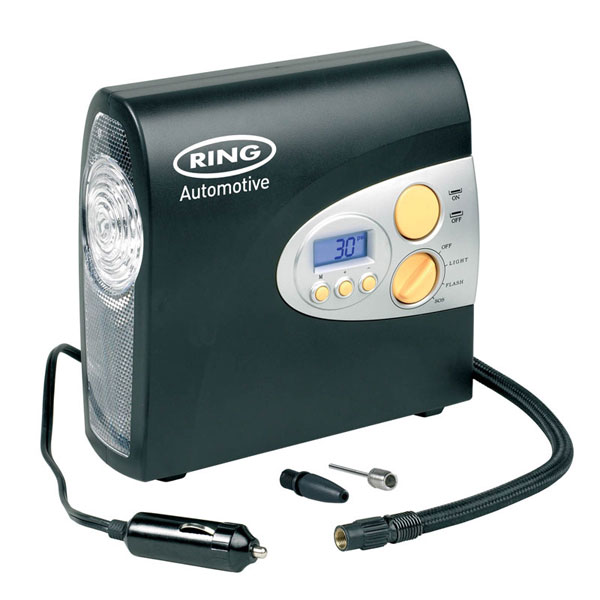 After much deliberation and testing we have chosen what we think to be the best Portable Air Compressor of 2017.
This little unit from RING Automotive is small in size but huge when it comes to features.
The unit boasts an impressive output, It takes just under 3.5 minutes to inflate a car tyre from flat to 35PSI. Regular top-ups are even quicker!
The easy-to-read digital backlit screen displays information clearly enabling you to use the unit whenever and wherever you need to. It shows pressure in PSI, KPI and BAR.
The handy 'preset' function stops the tyre inflation once you've reached the desired pressure rating, making fixing a flat or simply topping up your tyres quick, easy and hassle-free.
The unit features a bright LED lamp making it easy to use at night and the long cable and airline make it convenient to reach all around the car.
... and now for the best bit, the price!
We think this portable air compressor is well worth the affordable RRP of £29.99 but, we've decided to offer this unit at the BEST price we've ever featured before. Save £10 off the RRP, grab one of these today for just £19.99 until the end of July.
Don't dawdle, grab one before they go!
>> GRAB YOURS NOW <<
View our full range of Air Compressors